2019 Guest Relations Association Conference
Louisville, Kentucky September 9th-13th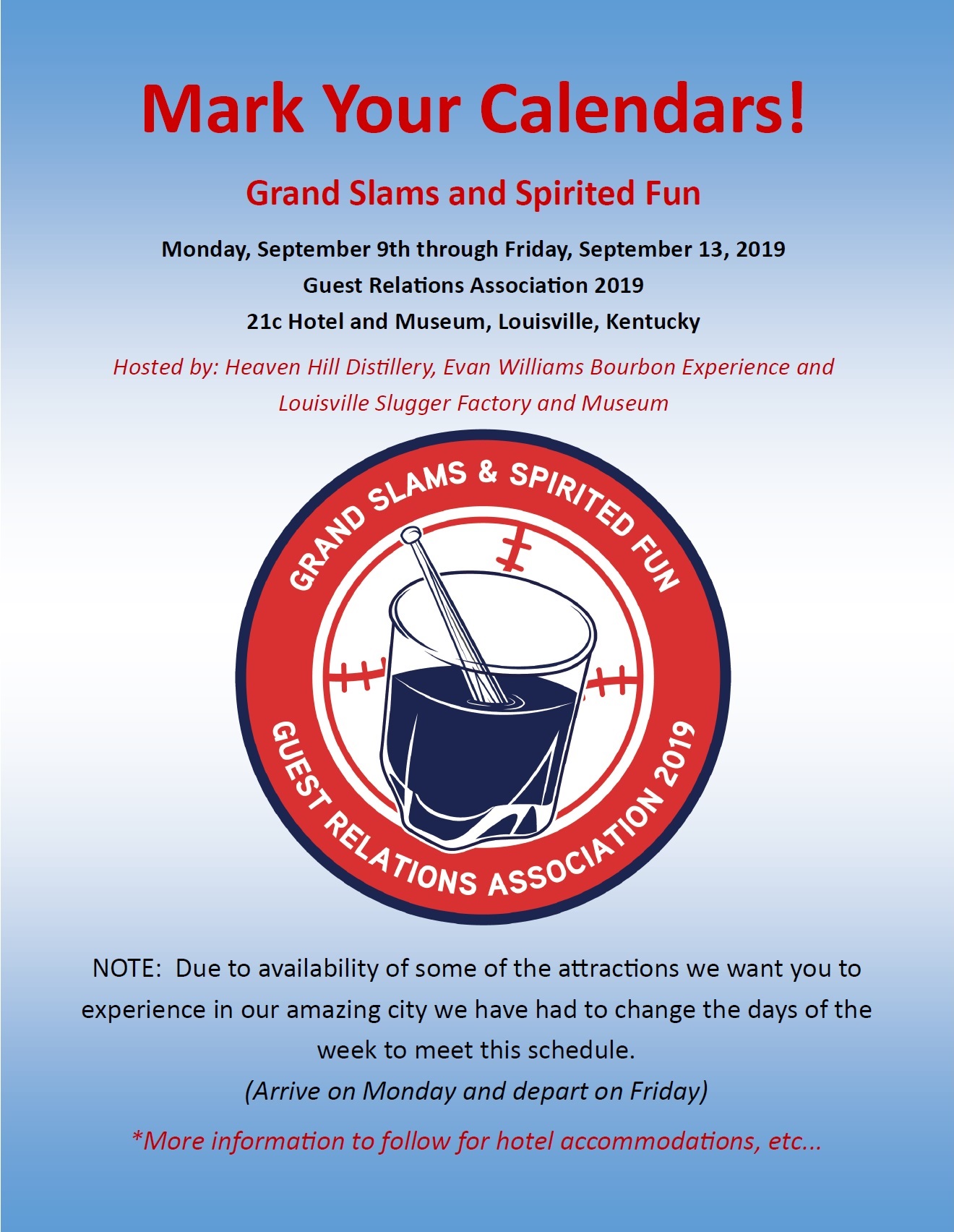 Register Today for the 2019 Conference
Registration Fees:
Before July 31st $700.00 (GRA Members) $800.00 (Non-Members)
After July 31st $750.00 (GRA Members) $850.00 (Non-Members)
Conference Registration | NON MEMBER Conference Registration
If you prefer to send your payments by mail, please send us your check to:
Curtis Andersen GRA Treasurer C/O Sweet Candy Co. 3780 West Directors Row Salt Lake City, UT 84104
AIRPORT
Louisville - SDF
HOTEL
Room Booking Link:
Guests can book through the website or by phone, whichever you prefer. The booking code is GRA21C . Please be aware the code is case sensitive. You can also book by calling 502-217-6300 and asking to book with Guest Relations Conference. Room rates are $189/night. Conference dates are September 9-13, 2019. (arrival on 9th and departure on Friday, 13th)
TENTATIVE AGENDA:
Guest Relations Association
Bourbon and Baseball "Lifting Spirits and Hitting Homeruns!"
September 9-13, 2019
Louisville, Kentucky and surrounding areas
Monday September 9th, 2019
Arrival Day for GRA Participants
Hotel: 21c Hotel
Award winning luxury hotel in the heart of Downtown Louisville
GRA Board Meeting and Dinner
Evan Williams Bourbon Experience
Enjoy dinner, cocktails and a VIP experience at the first distillery back on Whiskey Row in over 100 years while learning about Kentucky's First Distiller, Evan Williams
Tuesday, September 10, 2019
Churchill Downs, Backside Breakfast
See the horses train while enjoying a place where only the jockeys eat
Buffalo Trace Distillery
Over 200 years of fine bourbon craftsmanship make Buffalo Trace the World's Most Decorated Distillery. Tour the grounds with our interactive Distillery map and live video. Learn about our rich heritage and award-winning whiskies.
Rebecca Ruth Candies
Visit and enjoy where world famous chocolates were born and also known and the Inventor of Bourbon Candy
Toyota Manufacturing
Toyota's largest vehicle manufacturing plant outside of Japan.
Belle of Louisville
Enjoy dinner and an evening cruise on the Steamboat holding the all-time record in her class for miles traveled, years in operation and places visited.
Wednesday, September 11, 2019
Lux Row Distillery
Home to Rebel Yell and Ezra Brooks Bourbons
Barton's 1792
Palletized Warehouse Tour and tasting
Independent Stave Company
Crafting quality barrels for the spirits industry. See the process from tree to barrel
Maker's Mark
Enjoy dinner under the sky while enjoying the atmosphere of Bourbon, Music and KY cuisine
Thursday, September 12, 2019
UPS Worldport Louisville
5.2 million square foot processing facility that sorts up to 416,000 packages an hour.
Slugger Factory and Museum
Learn how bats come full circle: from forests and mills to Louisville Slugger bats
Friday, September 13, 2019
Departure Day